12
Feb
Actu musicale : Interview de LANRE
Lánre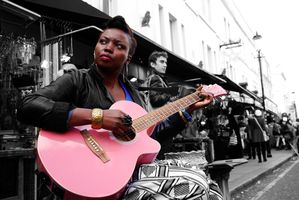 Pour la sortie de son premier album "Pen Voyage Chapter 1: Singing For Change"la chanteuse Britannique Lánre a eu l'amabilité de répondre en exclusivité aux questions de tendancesmusicales
Mr G. : Hi Lánre, Thank you for accepting the interview.(Bonjour Lánre, Merci d'avoir accepté cette interview)
Lánre : Hello. Thank you for having me.
Bonjour, Merci de me recevoir !
Mr G. : For those who don't know you yet. How could you sum up your career & your music ? (Pour tous ceux qui ne vous connaissent pas encore, pouvez-vous nous résumer en quelques mots votre parcours ?)
I have always sung in choirs for years and I am also a member of a contemporary UK Gospel group/collective (known as GK REAL). Eighteen months ago after we had toured for years we decided to take a break. It was then that I decided to start taking guitar lessons and writing solo material. I started taking those songs to cafes and bars around London and the feedback was really good. I was made redundant from my office/day job and I decided to go into the studio with UK producer Goz-i-am and some amazing musicians to record the record Pen Voyage Chapter 1; Singing for Change
J'ai toujours chanté dans des chorales et cela depuis des années, je suis aussi membre d'un collectif/ groupe de gospel britannique connu sous le nom de GK REAL. Il y a de cela dix huit mois, nous terminions notre tournée ensemble et nous avons décidé de faire une pause. C'est alors à ce moment là que j'ai commencé à prendre des cours de guitare et à écrire mes propres chansons. J'ai commencé à présenter mes propres compositions dans des cafés concerts de Londres et les différents retours ont été très bons. Les choses se sont enchainées, j'ai perdu mon emploi que j'avais à l'époque alors j'ai pris la décision de rentrer en studio avec le producteur britannique Goz-i-am et avec d'incroyables musiciens pour enregistrer "Pen Voyage Chapter 1: Singing For Change"
Mr G. : You were a member of the gospel band « GK REAL » why did you chose to do a solo career even though the band was having a growing success ? (Vous étiez membre du groupe Gospel « GK REAL ». Pourquoi avoir opté pour une carrière solo alors que le groupe rencontrait un succès grandissant?)
When the band decided to take a break, I wasn't sure what else to do even though I wanted to something different and explore writing and learning an instrument. A few months after those lessons the songs started to take shape and I decided to try them out with live audiences. GK REAL is a collective of individual artists and musicians so I think this season is an opportunity for us to branch out and do individual creative projects and then perhaps a few years down the line come back together to work on new material as a group.
Quand le groupe a décidé de faire une pause, je n'étais pas sûre de la direction à prendre même si je voulais faire quelque chose de différent et travailler mon écriture et un instrument. Les mois suivants mon apprentissage, les chansons ont commencé à prendre forme et j'ai décidé de les présenter à un public. GK REAL est un collectif de différents artistes et de musiciens et je pense que cette pause permet à chacun d'entre nous de se développer individuellement de manière artistique, et puis qui sait dans quelques années peut-être, nous nous retrouverons pour travailler sur de nouveaux projets en tant que groupe.
Mr G. : While listening to your music, I found some similarities with Tracy Chapman's music. Who inspire you as an artist ? (En écoutant votre album j'ai trouvé des similitudes avec l'univers de Tracy Chapman. Quelles sont vos influences musicales ?)
(Laughs) I hear that a lot when I go out to play. I am inspired by great story tellers like my dad and my grandfathers. I am inspired by novelists like Chimamanda Adichie, Toni Morisson and singer/songwriters like India Arie, Foy Vance, Tracy Chapman, Asa, Fela and so many more.
(Rires) J'entends beaucoup cette comparaison lors de mes concerts. Je m'inspire de personnes telles que mon père où mes grands pères qui sont de véritables conteurs d'histoires. Je puise aussi mon inspiration chez les romancières comme Chimamanda Adichie, Toni Morisson et les artistes, compositeurs telles qu'India Arie, Foy Vance, Tracy Chapman, Asa, Fela et beaucoup d'autres.
Mr G. : In which ways has your Nigerian heritage influenced & conditioned your music ? (Dans quelles mesures vos origines nigériennes ont conditionné votre musique ?)
My Nigerian heritage is a huge part of my life. le language Yoruba et j'Yorubas one of the tribes in Nigeria (where I am from) are great storytellers. It is reflected in our music, culture, food, clothes. I try to bring that into my song writing process and I wrote some of the songs on the record in Yoruba language. Being born in England, I remember my dad helping me to speak and understand the Yoruba language and it's only now that I appreciate that effort.
Mes origines Nigériennes sont parties intégrantes de ma vie. L'une des tribus au Nigéria: les Yorubas (d'où je viens) sont de véritables conteurs d'histoires. Cet aspect est reflété dans notre musique, culture, alimentation et même dans nos habits. J'essaie d'imprégner un peu de tout ça lorsque j'écris des chansons. J'ai aussi écrit certaines des chansons de l'album dans le langage Yoruba. Étant née en Angleterre, je me rappelle que mon père m'aidait à parler et comprendre le langage Yoruba et j'en suis désormais très reconnaissante.
Mr G. : These days it's rare for an artist to be singer & songwriter all at once . How long did it take to accomplish & complete the making of this amazing album? (Aujourd'hui il est rare d'être à la fois auteur/ compositeur et interprète. Il vous a fallu combien de temps pour réaliser cet incroyable album ?)
Thanks. I would say that from start to finish (from the writing of the first song to having the mastered music in my hands) it took eighteen months. I had a lot of help of course from the producer Goz-i-am as it's my first project, I was willing to learn and ask questions. Femi Temowo an amazing guitarist and artist also played on the record. Pedro Segundo was on percussions, Troy Miller on Drums, Jimmi Clarke on Bass. An amazing singer Mercy Adjepong was on backing vocals on some of the songs as well. And the songs "taste of freedom" and "running" featured Karl Nova, Ayo-Dele Edwards, Anthonia Edwards, U'mau Otuokon, Folu Olatuja. All these people helped to make it an amazing album that it is.
Merci. Je dirais que du commencement à l'achèvement de l'album (de l'écriture de la première chanson jusqu'à ce que j'obtienne les chansons masterisées entre mes mains) cela a pris 18 mois. J'ai eu beaucoup d'aide du producteur Goz-i-am puisque c'était mon premier projet, j'étais très enthousiaste à l'idée d'apprendre et de poser des questions. Femi Temowo un très talentueux guitariste et artiste a aussi contribué à cet album. Pedro Segundo était aux percussions, Troy Miller à la batterie et Jimmy Clarke à la basse. Une très bonne chanteuse Mercy Adjepong a fait les choeurs sur certaines chansons et j'ai eu la chance de collaborer avec Karl Nova, Ayo-Dele Edwards, Anthonia Edwards, U'mau Otuokon, Folu Olatuja sur les chansons 'Taste of Freedom' et "Running" La liste est longue mais toutes ces personnes ont contribué à l'essence de cet album.
Mr G. : Your debut album's title is « Pen Voyage Chapter One : Singing for Change » does that mean that we can expect a Chapter 2 ? (Votre album s'intitule « Pen Voyage Chapter One : Singing For Change » est-ce que cela signifie que l'on peut envisager un chapter 2 ?)
I think so. Because I am always inspired by storytelling and as the title suggests it's the story of my pen as a story teller. I tend to see song writing as short story telling so there has to be a chapter 2, I guess.
Oui je pense, car j'aime beaucoup conter des histoires comme l'évoque le titre de mon album, c'est l'histoire de mon crayon qui narre toute ces histoires. Pour moi écrire une chanson c'est la même chose que de conter des histoires donc il y aura sûrement un chapitre 2!
Mr G. : There's a featuring with Karl Nova on the song called « running ». How did you meet ? do you plan to work with other artists in the future ? (Pour le morceau « running » Karl Nova vous accompagne ; Comment s'est passée votre rencontre ? Est ce que vous prévoyez de collaborer avec d'autres artistes à l'avenir ?)
Karl Nova is also a member of the collective GK REAL and he is an amazing MC and I think he did a great of job at interpreting the story I was telling in that song running. I will definitely want to work with other artists in the future because I believe it brings a whole new dimension to a song when you feature another voice.
Karl Nova est aussi membre du collectif GK REAL, un artiste de hip hop très talentueux. Il a fait un très bon travail en interprétant l'histoire que je souhaite raconter dans la chanson "Running". Je veux vraiment travailler avec d'autres artistes dans le futur car je crois qu'il est bon d'apporter une toute nouvelle dimension à une chanson avec une autre voix!
Mr G. : You're playing a lot in London & you recently came back from Canada where you played several shows. Do you plan to come & perform in France soon ? (On vous a vu dans les cafés concerts londoniens, mais également au Canada ; A quand une tournée en France ?)
I would LOVE to come to France in the nearest future hopefully before the end of the year. I love travelling and seeing other people enjoy your song and perhaps sing those songs is such an amazing thing.
J'adorerais venir en France dans les mois qui arrivent, peut être avant la fin d'année ! J'adore voyager et c'est un sentiment extraordinaire que de voir d'autres personnes apprécier votre musique.
Mr G. : Thank you very much for your time Lánre & see you at your first concert in France !(Un grand merci Lánre et à très bientôt pour votre premier concert en France)
Thanks Mr G! Thanks for taking time to speak with me. See you soon
Merci Mr G d'avoir pris le temps de me poser ces questions! A bientôt

Album disponible depuis le 30 septembre sur itunes et amazon
www.lanreworld.com